Aggravated Assault Defense Lawyers in NYC
NYC Car Accident Lawyers
Protecting Car Accident Victims in New York and Long Island
Being involved in a car accident is terrible, and there are so many things you don't know about the process, being unfamiliar with the law. If you are involved in an accident caused by someone else, you might have rights you didn't even realize you had. You might be the victim of negligence, and you could be entitled to damages from this accident. If the other driver was negligent and caused your accident, he or she is now liable for the injuries, the financial strain, and the pain and suffering you incurred since your accident.
---
Are you suffering injuries due to someone else's negligence? Call Raiser & Kenniff today at (888) 646-0025 or contact us online to schedule a consultation with our car accident lawyers in NYC.
---
What To Do After a Car Accident
When you're involved in a car or truck accident, many things can happen. You could walk away without any injuries and later realize you suffered from internal injuries you were not aware of, such as a brain injury. Now you have expensive medical bills piling up in your name, and your injuries are far worse because they went so long without treatment. The insurance company for the other driver might push you to sign paperwork releasing your medical records. They might ask that you take the money they're offering now before you have a chance to find out how serious your injuries are, and you might end up in a negative situation because you aren't sure what to do.
If you were involved in a car accident, we recommend that you:
Call the police immediately following an accident and file an accident report
Seek medical attention within hours of being involved in an accident
Call an attorney to ask about your options
How Do I Know If I Have a Personal Injury Claim?
You are not required to file a personal injury lawsuit against the other driver, but you can if you suffer from injuries that put you in a tough financial situation. These can include:
Medical bills
Lost wages
Diminished earning capacity
Future medical needs
Pain and suffering
You might have issues with your back that require you to see the doctor regularly, and now you're responsible for paying those medical bills. Your back injury might prevent you from returning to work in the same capacity, and now you're forced to take a pay cut because you can't go back to work.
Contact Our Car Accident Attorney Today
Our car accident attorneys in NYC can help you with your situation by allowing you to ask questions. For example, you might not realize you are not required to sign any medical release for the other insurance company. All you need to do is provide them with the medical records from the accident. You also don't have to accept their settlement offer when it comes in. If they offer to pay you money, you can fight back and tell them it's not enough. You might not know how severe your injuries are yet, and you need time to figure this out, so you know how much you need.
You are not responsible for living a life filled with financial stress and upset when someone else was negligent. Their negligence caused this problem in your life, and they are responsible for ensuring you have the resources to pay your medical bills, make up for being out of work during your recovery, and to ensure you needn't worry about money in the future. You have rights, and you should call an attorney to find out what those are. The NYC car accident attorneys at Raiser & Kenniff are here to answer your questions.
---
Contact Raiser & Kenniff today to get started with our NYC car accident lawyers.
---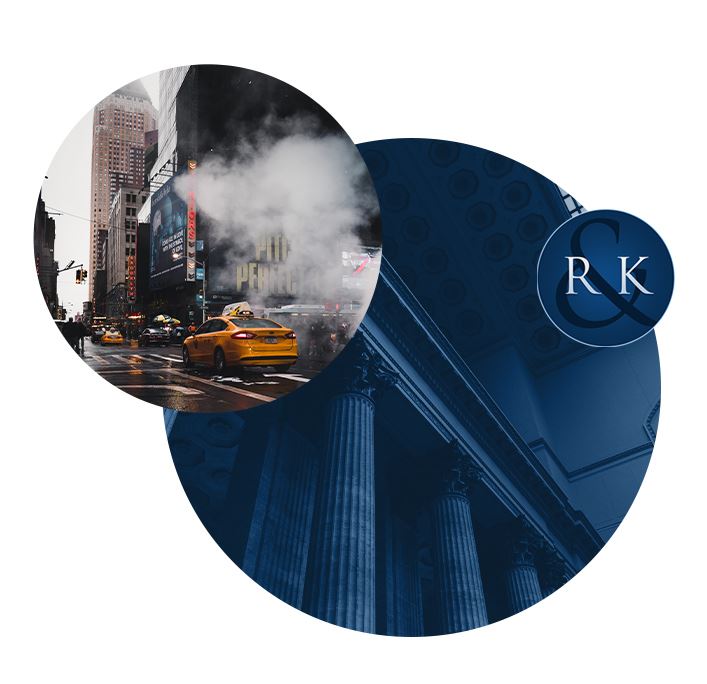 Client Testimonials
Our Clients Rave About Their Results
They Really Care

"They treated me wonderfully and helped me out of a bind. I feel that this firm really cares."

Give them a call!

"Extremely professional and efficient lawyers."

Top-Notch!

"They go well above and beyond. Highly recommend."

Integrity

"Thomas Kenniff is a true definition of an attorney and a humanitarian."

Great Law Firm

"The lawyers know exactly what they are doing all for a great price."
Why We're the Right Choice
Risk-Free Consultation

We offer a risk-free evaluation of your case and are here to help you understand your legal options. We are available 24/7, day or night, to help you.

Top-Rated Team

Recognized as the top attorneys in the USA.

Former Prosecutors

Our founding partners are both former New York prosecutors who bring unique experience and insights to every case, especially when it comes to going to trial.
Ready to Fight for You
CONTACT US NOW to Get Started