NYC Unauthorized Use of a Vehicle Attorneys
Defending Against Accusations of Using a Vehicle Without Consent
Unauthorized use of a motor vehicle is a serious offense that involves taking or using a vehicle without the owner's consent or beyond the scope of the given permission. This offense encompasses many situations, from joyriding to using a vehicle for purposes other than what was agreed upon. Understanding the complexities of the law surrounding unauthorized use can be challenging, making legal representation essential for those facing such charges.
At Raiser & Kenniff, P.C., we recognize the gravity of unauthorized use charges and their impact on our clients' lives. Our dedicated attorneys work tirelessly to protect our clients' rights and advocate on their behalf. We believe that every individual deserves a robust defense and strive to provide personalized attention to each case we handle. Our reputation is built on our commitment to pursuing just outcomes for our clients and ensuring that their voices are heard throughout the legal process.
---
Take the first step in protecting your rights by reaching out to our New York City unauthorized use of a vehicle lawyers at (212)-LAW-1500.
---
Understanding Unauthorized Use of a Vehicle
New York Penal Laws §§ 165.05 (third-degree), 165.06 (second-degree), and 165.08 (first-degree) concern unauthorized use of a vehicle.
The crime occurs under the following situations:
Using a vehicle without consent: In the first instance, unauthorized use occurs when a person knows they do not have consent to take or use someone's vehicle but exercises control over it. This situation involves the individual knowingly taking control of a vehicle without the owner's permission, fully aware that they are acting against the owner's wishes.
Using a vehicle beyond the agreed terms: Another situation arises when a person has consent from the vehicle's owner for specific repair, maintenance, or use. However, unauthorized use comes into play when that person exceeds the permission granted and uses the vehicle for their own purposes.
Keeping a vehicle longer than agreed upon: The third scenario pertains to cases where a person is given consent to use a vehicle and agrees to return it at a specific time. However, unauthorized use is committed when that individual maintains control of the vehicle beyond the specified period, exceeding the agreed-upon usage timeframe.
Unauthorized use of a motor vehicle in the third degree, as defined in New York Penal Law § 165.05, is a class A misdemeanor. The maximum jail term for this offense shall not exceed 364 days, and a fine of up to $1,000 may be imposed.
For unauthorized use of a motor vehicle in the second degree, as outlined in New York Penal Law § 165.06, a person may face a class E felony charge if they have a previous conviction for the same crime within the preceding 10 years. In such cases, the maximum imprisonment term is 4 years, and the maximum fine is $5,000.
The most severe category is unauthorized motor vehicle use in the first degree, as defined by New York Penal Law § 165.08. This offense applies when a vehicle is used to commit a specified crime. It is a class D felony. The maximum prison term is up to 7 years, along with a potential fine of up to $5,000.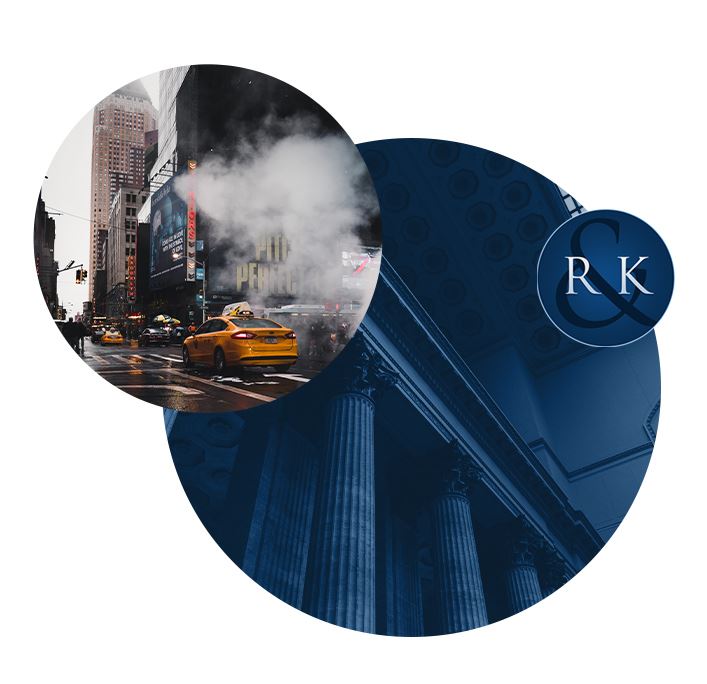 Possible Defense Strategies for Unauthorized Use Cases
When facing unauthorized use charges, exploring effective defense strategies that can help protect your rights and potentially mitigate the consequences is crucial.
Let's discuss possible defenses:
Lack of knowledge: It can be argued that the accused person was unaware that they did not have proper consent to use the vehicle.
Mistaken belief in permission: The defense may assert that the accused person genuinely believed they had permission to use the vehicle.
Contesting ownership: The defense may argue that there are doubts surrounding the ownership or lawful possession of the vehicle.
Why Choose Raiser & Kenniff, P.C.?
Our New York City unauthorized use of a vehicle lawyers take a personalized and strategic approach to defending clients. We understand that each case is unique, and we tailor our defense strategies to meet the specific needs of our clients. We have a comprehensive knowledge of the relevant laws and precedents and leverage our insights to seek just outcomes.
---
Learn more about how we may be able to assist with your case. Call (212)-LAW-1500 or submit an online contact form today.
---
Client Testimonials
Our Clients Rave About Their Results
They Really Care

"They treated me wonderfully and helped me out of a bind. I feel that this firm really cares."

Give them a call!

"Extremely professional and efficient lawyers."

Top-Notch!

"They go well above and beyond. Highly recommend."

Integrity

"Thomas Kenniff is a true definition of an attorney and a humanitarian."

Great Law Firm

"The lawyers know exactly what they are doing all for a great price."
Why We're the Right Choice
Risk-Free Consultation

We offer a risk-free evaluation of your case and are here to help you understand your legal options. We are available 24/7, day or night, to help you.

Top-Rated Team

Recognized as the top attorneys in the USA.

Former Prosecutors

Our founding partners are both former New York prosecutors who bring unique experience and insights to every case, especially when it comes to going to trial.
Ready to Fight for You
CONTACT US NOW to Get Started