Aggravated Assault Defense Lawyers in NYC
NYC Drug Offenses Lawyers
Legal Representation for Drug Charges in NY
If you are accused of a drug offense, you face serious penalties. Depending on the specifics of the charges filed against you for a drug crime, you could be facing heavy fines, penalties, and even jail time. Most first-time drug offenses are sentenced lightly, but you face serious legal problems if this is not the first time you've been arrested and charged with a drug offense.
Possession of drugs
Selling drugs
Manufacturing drugs
Importing drugs
These are some of the most common drug crimes associated with illegal substances. However, you could be charged with drug crimes of the same degree if you're caught with prescription drugs that belong to you or someone else. You also face these charges if no drugs are found on your body or in your vehicle or home but you do have drug paraphernalia, chemicals, or accessories designed to make or use illegal drugs.
Some people are charged with a misdemeanor for their drug crime depending on what the infraction is and how much of the substance is found. If you haven't a prior criminal record, the sentence is a little lighter. If you have more than a certain amount of the specific drug you're carrying, you could be charged with a felony crime. This means you're no longer facing time in a jail but rather a federal prison. You face court-mandated drug counseling, fines, imprisonment, community service, and you could even end up with a criminal record.
If you're accused of a drug offense, you want an attorney to help. You are given the right to seek help from an attorney the moment you are arrested, and that is the best time to call an attorney to represent you. Your drug offense lawyer can keep you out of jail, help you fight your case, and even work to get your charges dropped or reduced. The attorney you work with helps you gather evidence, submit witness testimony, and ask for a lighter charge based on what you're willing to admit and how much help you can be to the court if there are bigger players involved.
Your best bet is to call a drug offense attorney right away. Your case will not go away, and representing yourself puts you at a disadvantage when you go to court. Your attorney is familiar with the drug laws and how these cases work. This means there is a greater chance you can walk away without any guilty verdict or at least walk away with one that's lighter.
Do not speak to anyone when you are arrested. Ask to contact your attorney at Raiser & Kenniff. Your attorney will advise you to say nothing else until he or she is present, and they will then help you prove your case. Your attorney is here to be sure you are getting the help you need and the representation you deserve. Even a minor sentence is too much for someone who doesn't want to go to jail for their crimes, the crimes of someone else, or a false arrest. You have rights, and you have a chance to prove your case in a court of law when you have an experienced attorney on your side.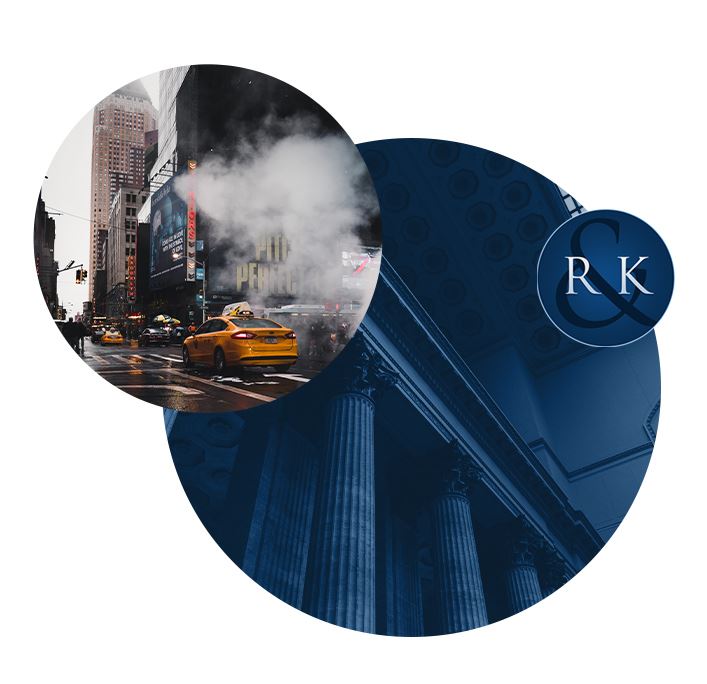 Client Testimonials
Our Clients Rave About Their Results
They Really Care

"They treated me wonderfully and helped me out of a bind. I feel that this firm really cares."

Give them a call!

"Extremely professional and efficient lawyers."

Top-Notch!

"They go well above and beyond. Highly recommend."

Integrity

"Thomas Kenniff is a true definition of an attorney and a humanitarian."

Great Law Firm

"The lawyers know exactly what they are doing all for a great price."
Why We're the Right Choice
Risk-Free Consultation

We offer a risk-free evaluation of your case and are here to help you understand your legal options. We are available 24/7, day or night, to help you.

Top-Rated Team

Recognized as the top attorneys in the USA.

Former Prosecutors

Our founding partners are both former New York prosecutors who bring unique experience and insights to every case, especially when it comes to going to trial.
Ready to Fight for You
CONTACT US NOW to Get Started