Aggravated Assault Defense Lawyers in NYC
NYC Domestic Violence Lawyers
The reality of domestic violence and the plague that it is on our society does not mean everyone accused is guilty or that they don't deserve a fair trial. In fact, the horror we rightly feel toward this crime should make us all the more determined to ensure that only those who are truly guilty are convicted. The prospect of an innocent person losing their reputation and perhaps their freedom is something that should be of grave concern to all, and our experienced NYC domestic violence lawyers are determined to do all we can to prevent that from happening on our watch.
The team of professionals at Raiser & Kenniff, P.C. are committed to mounting the vigorous defense our clients deserve and are entitled to under the U.S. Constitution. Call us at (888) 646-0025 or reach out here online today.
Domestic Violence Penalties in New York
The charges a District Attorney chooses to file in domestic violence cases will depend on a range of factors, including the damage suffered by the victim. The sanctions that come with a conviction include:
A 3rd-degree misdemeanor charge may result in jail time for as long as a year.
A 2nd-degree felony assault charge can result in a prison term ranging from 2 to 7 years.
If a felony is dealing with sexual assault, the prison sentence can go for up to 25 years.
Get the reliable legal counsel and aggressive defense strategy you need by calling Raiser & Kenniff, P.C. at (888) 646-0025 or by filling out our online contact form today.
Possible Defenses in Domestic Violence Case
In a criminal case, the burden of proof rests with the prosecution to demonstrate guilt beyond a reasonable doubt, not with the defendant to establish their innocence. Various legal defenses can be employed to support an individual's case, and our NYC domestic violence attorneys can help guide clients through the process. Each domestic violence case is unique, but potential scenarios may include:
Self-defense: In some cases, the defendant may have acted in self-defense, which could provide legal grounds for their actions.
Misinterpretation of intent: Misunderstandings can occur, particularly in if the case involves an assault charge, where a defendant's words or actions may have been misconstrued as threatening. This defense questions whether a reasonable person would feel threatened by the defendant's behavior.
Absence from the scene of the crime: If the defendant was not present at the time of the alleged incident, that's certainly a strong defense.
These are just a few examples of possible defenses. Our experienced NYC domestic violence lawyers understand how to investigate each case, ask the right questions, and launch the appropriate defense strategy.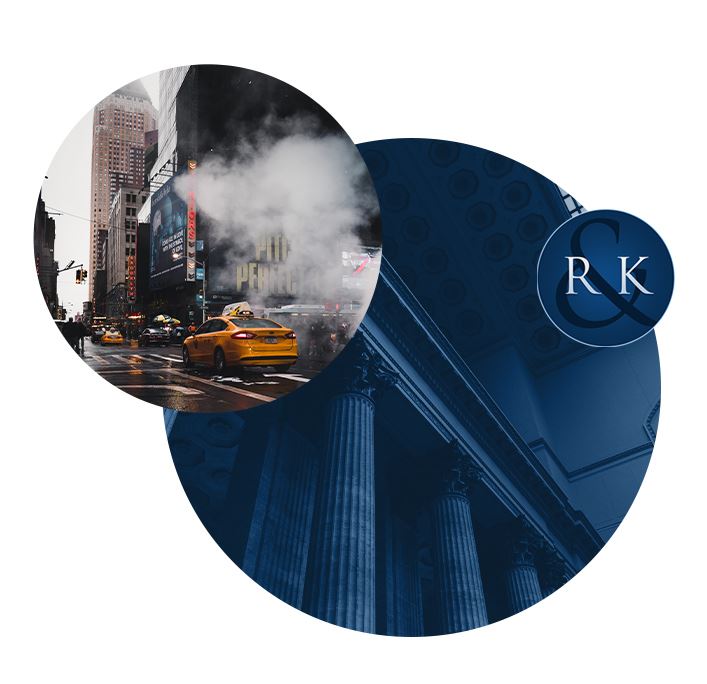 THE LEGAL DEFINITION OF DOMESTIC VIOLENCE
The allegations that are involved in domestic violence cases are crimes regardless of who the victim is. What makes them domestic violence from the legal perspective is the nature of the relationship between the defendant and the alleged victim. In New York State, this includes spouses, former spouses, current or former intimate partners, and blood relatives.
It's important to further note that domestic violence legal consequences can be applied even if the victim and abuser do not reside under the same roof. For example, ex-spouses or former intimate partners may not live together, yet they can still be subject to domestic violence law.
A Legal Defense You Can Trust
It's unfortunately common for defendants in domestic violence cases to be prejudged by their community, their friends, and perhaps even their own family. Defendants need to know that their lawyer has their back, that they know the law, and that they know how to effectively fight the District Attorney's office. At Raiser & Kenniff, P.C., defendants find the kind of attorneys they can count on. Call us at (888) 646-0025 or contact us online today.
Call us at (888) 646-0025 or contact us online. We are available around the clock, and we are standing by to help you.
Client Testimonials
Our Clients Rave About Their Results
They Really Care

"They treated me wonderfully and helped me out of a bind. I feel that this firm really cares."

Give them a call!

"Extremely professional and efficient lawyers."

Top-Notch!

"They go well above and beyond. Highly recommend."

Integrity

"Thomas Kenniff is a true definition of an attorney and a humanitarian."

Great Law Firm

"The lawyers know exactly what they are doing all for a great price."
Why We're the Right Choice
Risk-Free Consultation

We offer a risk-free evaluation of your case and are here to help you understand your legal options. We are available 24/7, day or night, to help you.

Top-Rated Team

Recognized as the top attorneys in the USA.

Former Prosecutors

Our founding partners are both former New York prosecutors who bring unique experience and insights to every case, especially when it comes to going to trial.
Ready to Fight for You
CONTACT US NOW to Get Started