Aggravated Assault Defense Lawyers in NYC
Aggravated Assault Defense Lawyers in NYC
Your Best Defense Against Assault Charges
An altercation can quickly turn into a serious legal issue. When words are exchanged and tempers flare, it's easy for the situation to get out of hand and end with someone facing criminal charges. In New York City, if you are accused of aggravated assault – a felony offense – the consequences can be severe. If convicted, you could be sentenced to up to 15 years in prison.
At Raiser & Kenniff, our experienced NYC criminal defense attorneys understand how intimidating this situation is. We have dedicated our careers to helping individuals who face these types of charges fight back against an aggressive prosecution team that is determined to secure a conviction at all costs.
Our goal is simple: we will do everything possible to help you avoid a conviction or minimize your exposure as much as possible so that your life can return back on track as soon as possible.
If you want the best chance to protect your rights and freedom, contact Raiser & Kenniff right away. Dial (888) 646-0025 or fill out our online form to schedule a free consultation to discuss the details of your case.
Understanding Aggravated Assault Charges in New York
Under New York law, aggravated assault is a serious offense that involves intentionally causing serious physical injury to another person. This offense is typically committed with a deadly weapon or with the intent to cause severe harm. Aggravated assault charges can also arise when an individual intentionally causes injury to a protected class of individuals, such as police officers, firefighters, or emergency medical service personnel, in the course of their duties.
Some of the scenarios where you can be charged with aggravated assault:
Intentionally causing serious physical injury to another person
Using or threatening to use a deadly weapon against another person
Recklessly engaging in conduct that creates a substantial risk of death or serious bodily harm
Causing physical injury to an elderly, disabled, pregnant, or mentally impaired individual; child; police officer; firefighter; sanitation worker; teacher; religious official; public servant or healthcare provider

First Degree Aggravated Assault: Up to 25 years in prison
Penalties for Aggravated Assault in NYC
Aggravated assault is considered a felony in New York and carries severe penalties upon conviction. The specific penalties vary depending on the circumstances of the case, including the severity of the injuries caused, the use of a weapon, and the victim's status as a protected class.
These include:
Second Degree Aggravated Assault: Up to 7 years in prison
Third Degree Aggravated Assault: Up to 4 years in prison
Fourth Degree Aggravated Assault: Up to 1 year in jail and/or a fine of up to $1,000
In addition to the potential for a lengthy prison sentence, conviction for aggravated assault can also result in substantial fines, probation, mandatory anger management or rehabilitation programs, and community service.
How Raiser & Kenniff Can Assist You
At Raiser & Kenniff, our team is aware of the complexities surrounding aggravated assault charges in New York City and has a wealth of experience representing clients accused of serious offenses. We will thoroughly investigate the details of your case, gather evidence, analyze police reports, interview witnesses, and build a strong defense strategy tailored to your specific circumstances. Our goal is to challenge the prosecution's case and protect your rights every step of the way.
We will provide you with personalized attention and guide you through the entire legal process, ensuring that you understand your options and the potential outcomes. Our attorneys are well-versed in New York criminal law and have a track record of success in defending clients against aggravated assault charges. We will work tirelessly to protect your reputation, freedom, and future.
Don't Put Your Future at Risk – Call Our NYC Aggravated Assault Defense Lawyers
If you have been charged with aggravated assault in New York City – no matter how minor or serious the alleged offense may be – it is essential that you seek experienced legal counsel right away. By enlisting the help of Raiser & Kenniff, we will ensure that your rights are protected and that you receive a fair hearing before the court.
Contact us today at (888) 646-0025 or fill out our online form to schedule a free consultation about your case. Our team is ready to put our skills and resources on your side.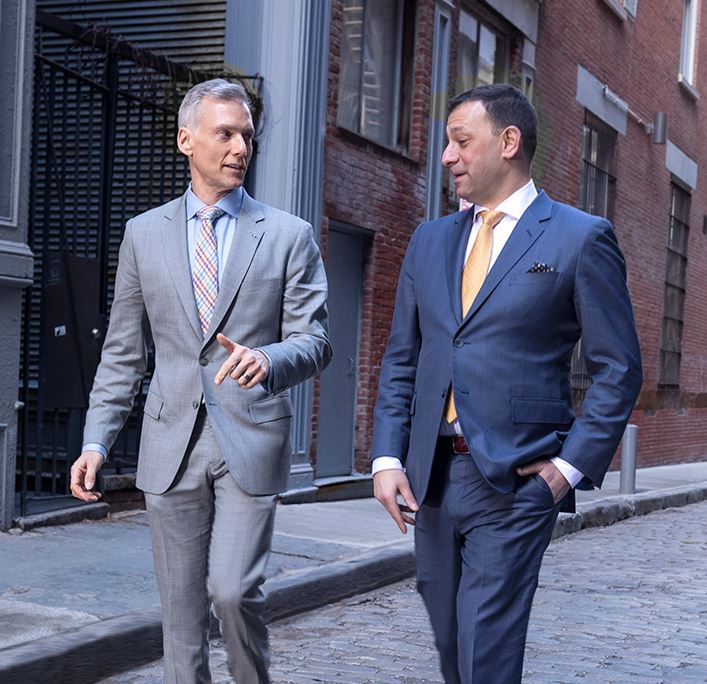 Client Testimonials
Our Clients Rave About Their Results
They Really Care

"They treated me wonderfully and helped me out of a bind. I feel that this firm really cares."

Give them a call!

"Extremely professional and efficient lawyers."

Top-Notch!

"They go well above and beyond. Highly recommend."

Integrity

"Thomas Kenniff is a true definition of an attorney and a humanitarian."

Great Law Firm

"The lawyers know exactly what they are doing all for a great price."
Why We're the Right Choice
Risk-Free Consultation

We offer a risk-free evaluation of your case and are here to help you understand your legal options. We are available 24/7, day or night, to help you.

Top-Rated Team

Recognized as the top attorneys in the USA.

Former Prosecutors

Our founding partners are both former New York prosecutors who bring unique experience and insights to every case, especially when it comes to going to trial.
Ready to Fight for You
CONTACT US NOW to Get Started