Manhattan Criminal Defense Attorneys
Manhattan Criminal Defense Lawyer
Local Defense is Essential in NYC
Getting accused of a crime is an intimidating and stressful experience, especially in a bustling city like New York. If you are charged with a criminal offense in Manhattan, NY, it's crucial to hire a reliable and experienced criminal defense attorney to protect your rights, fight for your interests, and ensure a fair verdict.
With a 100 years of combined experience, Raiser & Kenniff, P.C. is the name to remember when you are facing a court case or have been accused of a crime. Our law firm specializes in criminal defense in New York City, and its founders are former prosecutors themselves. Drawing on their insider expertise, Raiser & Kenniff is known for putting up a strategic defense in both state and federal courts. Trust the team with the know-how to keep you protected. It's essential to hire a local Manhattan criminal defense attorney who has a deep understanding of New York City's criminal justice system.
---
Contact Raiser & Kenniff P.C., our experienced and reliable Manhattan-based criminal defense firm. Call us at (888) 646-0025 today for a free consultation!
---
Overview of the Criminal Process in New York City
The criminal justice system in New York City is complex and challenging, with various stages and procedures that can be intimidating for an accused person who is unfamiliar with the system.
After an arrest or accusation, a criminal case typically goes through the following stages:
Arraignment: The accused person is brought before a judge who clarifies the charges and sets a bail amount.
Discovery: Both parties exchange evidence and information relevant to the case.
Plea Bargaining: The defendant may negotiate with the prosecution for a lesser charge or sentence.
Pretrial motions and hearings: The defense and prosecution present arguments and evidence to the judge.
Trial: A jury or judge determines if the accused person is guilty or not guilty.
Sentencing: If the defendant is found guilty, a judge determines the appropriate sentence.
Why Hiring a Local Criminal Defense Attorney Matters
Hiring a local criminal defense attorney in Manhattan can make a significant difference in the outcome of your case. An attorney who is familiar with the judges, prosecutors, court procedures, and local laws in your jurisdiction can build a stronger defense strategy and provide you with valuable insights into your case. A local attorney can also attend court hearings promptly and communicate with you regularly to update you on your case's progress.
Reliable Manhattan Criminal Defense Attorneys
Raiser & Kenniff P.C. is a full-service criminal defense law firm that has been serving clients in New York City and Long Island for more than a decade. Our Manhattan criminal defense attorneys have extensive experience and knowledge of the New York criminal justice system, and we have successfully represented clients in a wide range of criminal cases, including white-collar crimes, drug offenses, domestic violence, assault, homicide, and more.
Benefits of Choosing Us for Your Case
When you choose Raiser & Kenniff P.C. for your criminal case, you can expect the following benefits:
Personalized attention: We treat every client with respect and compassion and recognize that every case is unique. We listen to your concerns, review the evidence, and develop the best defense strategy for your situation.
Aggressive representation: We are skilled litigators who are not afraid to fight for you in court. We have a track record of success in securing dismissals, acquittals, reduced charges, and alternative sentencing.
24/7 Availability: We understand that a criminal case can be urgent, and you may need to speak with your attorney at any time. That's why we make ourselves available 24/7 to answer your questions and provide guidance throughout the legal process.
Competitive Pricing: We offer reasonable and transparent pricing, and we don't believe that quality representation should come at an exorbitant cost.
If you are facing criminal charges in New York City, hiring a local criminal defense attorney in Manhattan is essential. At Raiser & Kenniff P.C., we are committed to providing you with the best possible representation, protecting your rights, and achieving a favorable outcome for your case.
---
Contact us today at (888) 646-0025 to schedule a free consultation with our experienced Manhattan criminal defense lawyers.
---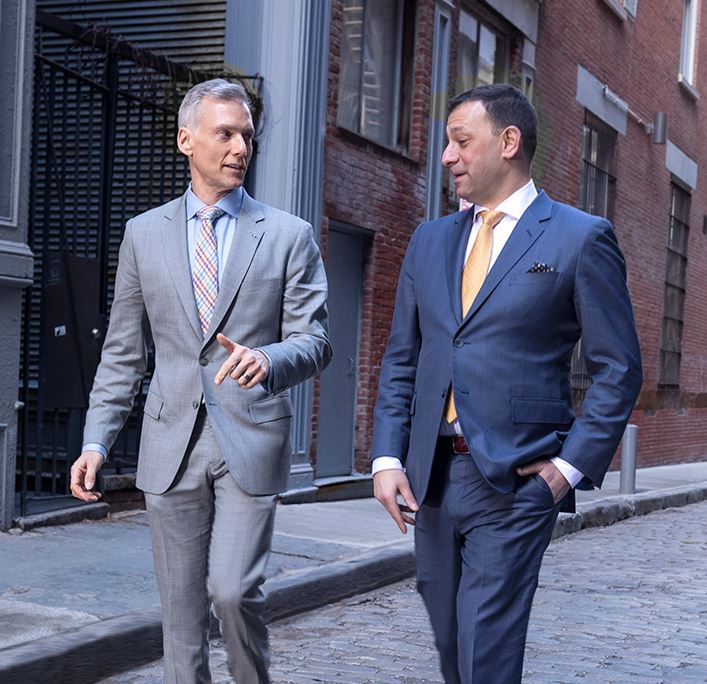 Client Testimonials
Our Clients Rave About Their Results
They Really Care

"They treated me wonderfully and helped me out of a bind. I feel that this firm really cares."

Give them a call!

"Extremely professional and efficient lawyers."

Top-Notch!

"They go well above and beyond. Highly recommend."

Integrity

"Thomas Kenniff is a true definition of an attorney and a humanitarian."

Great Law Firm

"The lawyers know exactly what they are doing all for a great price."
Why We're the Right Choice
Risk-Free Consultation

We offer a risk-free evaluation of your case and are here to help you understand your legal options. We are available 24/7, day or night, to help you.

Top-Rated Team

Recognized as the top attorneys in the USA.

Former Prosecutors

Our founding partners are both former New York prosecutors who bring unique experience and insights to every case, especially when it comes to going to trial.
Ready to Fight for You
CONTACT US NOW to Get Started