Aggravated Assault Defense Lawyers in NYC
New York City Court-Martial Defense Lawyer
Our military service members volunteer to put their lives on the line. When they're charged with a crime or an offense against the military code, they deserve a proper defense. The consequences of court-martial are long-lasting. The immediate consequences can include everything from dishonorable discharge to hard labor and confinement and even the death penalty. The long-term consequences are that the court-martial follows them around in post-military days, a black mark on their reputation and a possible hindrance to constitutional rights like owning a gun or voting. Our veterans need good New York City court-martial defense lawyers and Raiser & Kenniff are here to give it to them.
We bring over 100 years of combined experience, with talented attorneys backed up by dedicated staff. When a military member fights for their freedom, reputation, and career, they can count on us. Call (888) 646-0025 or reach out here online today.
3 Types of Court-Martials
There are a large number of possible offenses that a military member can be subject to court-martial on. This includes the same criminal offenses that could have a civilian facing charges, from sexual assault to theft, and more. It also includes charges that are unique to the military. Charges like desertion, insubordination, self-inflicted injury, and failure to obey are examples of rules that exist to preserve order within the military structure. Service members accused of violating them may need our New York City court-martial defense attorneys to protect their rights and vigorously make their case at trial.
All of the possible offenses against the Uniform Code of Military Justice (UCMJ) can be grouped into these three categories:
Summary court-martial: These are for transgressions considered comparatively minor. Although conviction can still result in hard labor and losing up to two-thirds of one's paycheck.
Special court-martial: The concept of misdemeanors and felonies don't formally exist in the UCMJ, but as a practical guide, this category is for those offenses that civilian criminal law would generally consider misdemeanors.
General court-martial: These are the most serious violations, with consequences that include everything from confinement to capital punishment potentially on the table.
Contact Raiser & Kenniff today by calling (888) 646-0025 or here online via our online contact portal.
How a Military Court Differs From Civilian Court
It's imperative that service members facing charges work with New York City court-martial defense lawyers that have specific experience in this field of law. This is because the procedures of military courts are different from what one might see in a standard New York criminal trial. Differences in procedure impact how everything from pre-trial to the proceeding itself is conducted, and the attorney who understands it may have a much better chance of protecting their client.
One of the core differences appears in the pre-trial phase. In a civilian court, the defendant may have the opportunity to work out a plea deal if the evidence appears stacked against them or they simply don't want to risk the consequences of a trial. Plea agreements are not a part of the equation under the UCMJ. To plead guilty, a defendant must honestly believe they are guilty. There's no negotiating a lesser charge.
Moreover, when the trial begins, the military prosecutor has one significant advantage over their civilian counterpart—a unanimous agreement by the jury is not necessary to secure a conviction. A military panel need only come to a three-fourths agreement to reach a guilty verdict. That's 9 of 12 jury members. A civilian defense lawyer need find only one sympathetic juror to protect their client. The military defense attorney needs to find at least four.
Thus, the defense lawyer needs to play to win—not just settle for plea deals—and their argument must be particularly persuasive.
We Know How To Fight & Win
At Raiser & Kenniff, we're combat veterans ourselves and we feel special passion for defending those who face accusations under the UCMJ. That personal passion is supported by an extensive understanding of the law, a consistent track record of success, and an excellent research team that supports us. We'll fight for you. Call our office at(888) 646-0025 or contact us online today.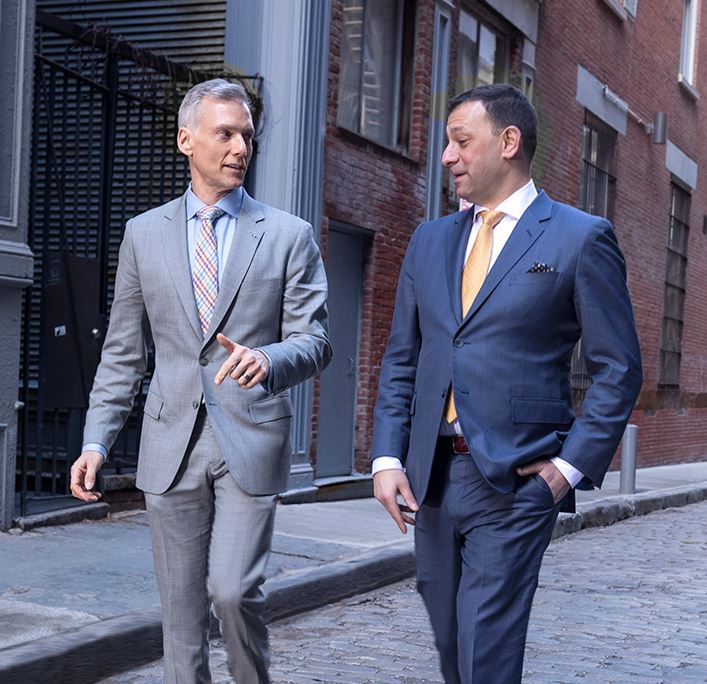 Client Testimonials
Our Clients Rave About Their Results
They Really Care

"They treated me wonderfully and helped me out of a bind. I feel that this firm really cares."

Give them a call!

"Extremely professional and efficient lawyers."

Top-Notch!

"They go well above and beyond. Highly recommend."

Integrity

"Thomas Kenniff is a true definition of an attorney and a humanitarian."

Great Law Firm

"The lawyers know exactly what they are doing all for a great price."
Why We're the Right Choice
Risk-Free Consultation

We offer a risk-free evaluation of your case and are here to help you understand your legal options. We are available 24/7, day or night, to help you.

Top-Rated Team

Recognized as the top attorneys in the USA.

Former Prosecutors

Our founding partners are both former New York prosecutors who bring unique experience and insights to every case, especially when it comes to going to trial.
Ready to Fight for You
CONTACT US NOW to Get Started