Drunk Driving Lawyers in New York, ny
Relentless dui defense attorneys in New York and Long Island
If you are facing a DUI charge in New York, it's important to know that you have the right to a lawyer and an opportunity to defend yourself.
A skilled DUI defense lawyer at Raiser & Kenniff can build a strong case on your behalf and help protect your rights throughout the entire legal process. Not only can they assess the evidence against you and take steps to ensure that authorities followed procedural laws properly, but they are also equipped with experience and knowledge to identify loopholes and weaknesses in the prosecution's argument.
Having a knowledgeable NYC DUI defense attorney by your side increases the chances of mitigating potential penalties or having charges dropped altogether, so it is essential that those accused of driving under the influence consult with one.
---
Ready to start working on your DUI defense? Call us today at 888-646-0025.
---
What are the New York DUI Charges?
If you are accused of driving under the influence in New York, you will be charged with one of three statutes under the New York Vehicle & Traffic Law 1192.
VTL 1192(1): Violation of this law is a traffic infraction. However, the consequences are still serious. You could have to pay twice as much for your car insurance over the next ten years. Furthermore, you will be unable to rent a vehicle for three years and will be barred from entering Canada.
VTL 1192(2): Those who have a blood alcohol content (BAC) of at least 0.08% while operating a motor vehicle will be charged with a DWI under this statue. This charge is based on the results of your chemical tests, so you could be driving in a normal pattern and pass a sobriety test and still be charged with a DWI under VTL 1192(2).
VTL 1192(3): This relates to an individual who operates a vehicle during a period when they are significantly impaired by alcohol.
In New York, there are certain factors that make up a DWI charge. A prosecutor must prove the accused was driving or operating a motor vehicle on a public highway while intoxicated or impaired. When a prosecutor is unable to prove all of these elements beyond a reasonable doubt, the accused will not be found guilty.
---
Call our NYC DUI Defense Lawyers TODAY AT
888-646-0025
.
---


What are the Penalties of a DWI in New York?
New York law requires that all DUI arrests result in a court ordered alcohol screening and a suspended license. The penalties of a DUI will vary based on several circumstances such as previous DUI arrests and convictions. Moreover, those arrested for a DUI could also be subject to fines and may have to enter the New York Drinking and Driving Program.
Each arrest is unique and the penalties will be based on the circumstances surrounding your case.
A first time offender will typically be sentenced differently than those being charged with a second or third offense. When you have your license reinstated, you may have to keep an ignition interlock device in your vehicle, which will require that you breath into the alcohol testing device before the vehicle will start.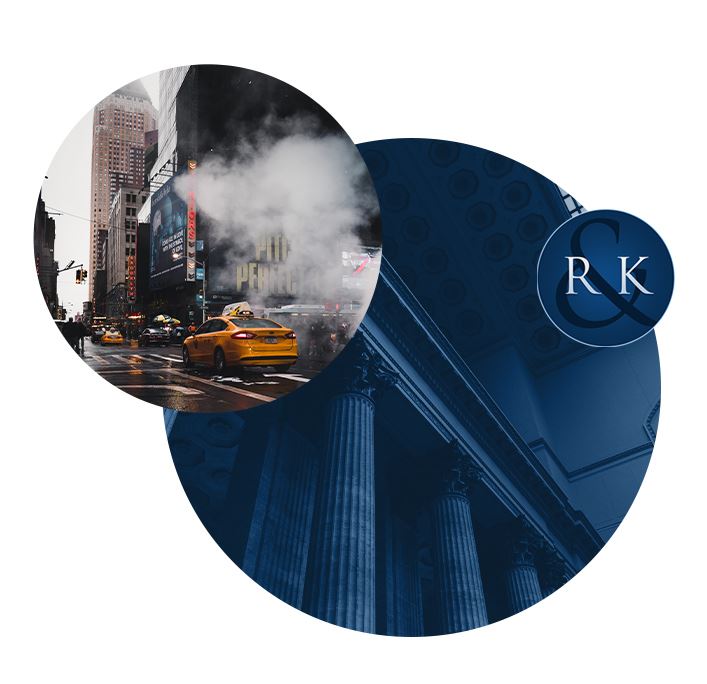 The Importance of an Experienced DWI Attorney
When you are facing a DUI conviction, a skilled attorney has the capability to file a number of motions prior to your trial. These motions are critical because they can help a defense attorney examine all the evidence surrounding the case. There have been times when a police officer did not have probable cause to stop a driver, so a DWI attorney could argue the arrest was made illegally. In addition, blood alcohol samples are delicate and can produce false readings if handled incorrectly. A skilled attorney can locate this information and use it in court for your defense.
Aside from costly fines and a suspended license, a DWI charge can also have other consequences. If you are convicted, then you could have a criminal record that prevents you obtaining employment, receiving federal funding for educational loans, and more. The importance of a knowledgeable attorney is vital when you are facing a DWI conviction. If you are in New York City, Nassau County, or Suffolk County, the legal team at Raiser & Kenniff can help. The founders of the firm have over 100 years of combined experience and were both former prosecutors.
Client Testimonials
Our Clients Rave About Their Results
They Really Care

"They treated me wonderfully and helped me out of a bind. I feel that this firm really cares."

Give them a call!

"Extremely professional and efficient lawyers."

Top-Notch!

"They go well above and beyond. Highly recommend."

Integrity

"Thomas Kenniff is a true definition of an attorney and a humanitarian."

Great Law Firm

"The lawyers know exactly what they are doing all for a great price."
Why We're the Right Choice
Risk-Free Consultation

We offer a risk-free evaluation of your case and are here to help you understand your legal options. We are available 24/7, day or night, to help you.

Top-Rated Team

Recognized as the top attorneys in the USA.

Former Prosecutors

Our founding partners are both former New York prosecutors who bring unique experience and insights to every case, especially when it comes to going to trial.
Ready to Fight for You
CONTACT US NOW to Get Started